7 things to consider when commissioning customer counters and security windows
In most cases, customer counters and security windows are installed as part of a bigger build or refurbishment projects, with many layers of decision making, complex design and construction programmes, and contributions from many professions and skills.  
All of these factors mean that projects which include customer counters or security windows, such as rail station refurbishments, can be at risk of going over budget, over time and failing to meet current regulations or standards.
Here are 7 recommendations we consider important when you're commissioning customer counter and security window projects, whether they're for rail, airport, stadium, arena or other locations where transactions occur. They're also neatly summarised in our infographic.
First, we recommend conducting a thorough design and risk assessment right at the beginning. This eliminates potential problems from the start, saving rework and unexpected costs further down the line.
Then, look to simplify the number of contracts. Having different teams on each stage of the customer counter or security window element of the project adds to project management time used in meetings, communications and handovers.
Think about the quality of the designs. These are usually high volume areas, where you need to meet industry standards and use the best materials which will last the test of time.
You'll also need to ensure that your project will be signed off promptly by meeting the relevant standards. Having these designed in from the beginning will help you meet project milestones and reduce rework costs.
Knowing that your installation will meet the industry standards means that you can be confident that you're reducing project risk. Our end to end solutions also mean reduced contract exposure.  
In this sector, one size does not fit all, every site is different. Look out for additional costs and design compromises which are frequently made when standard designs are employed, A bespoke solution means that you get the right solution the first time, without the hidden, additional rework costs.
And finally, you need to ensure that your customer counter or security window works for everyone. Accessibility and comfort are key to inclusive design, and you'll need ergonomic experts, to ensure that these are designed in from the start. 
There's more about our approach to customer counter and security window projects here. But, have a look at our infographic for an at glance summary of the benefits of working with Ideas Ltd. We think it makes a lot of sense!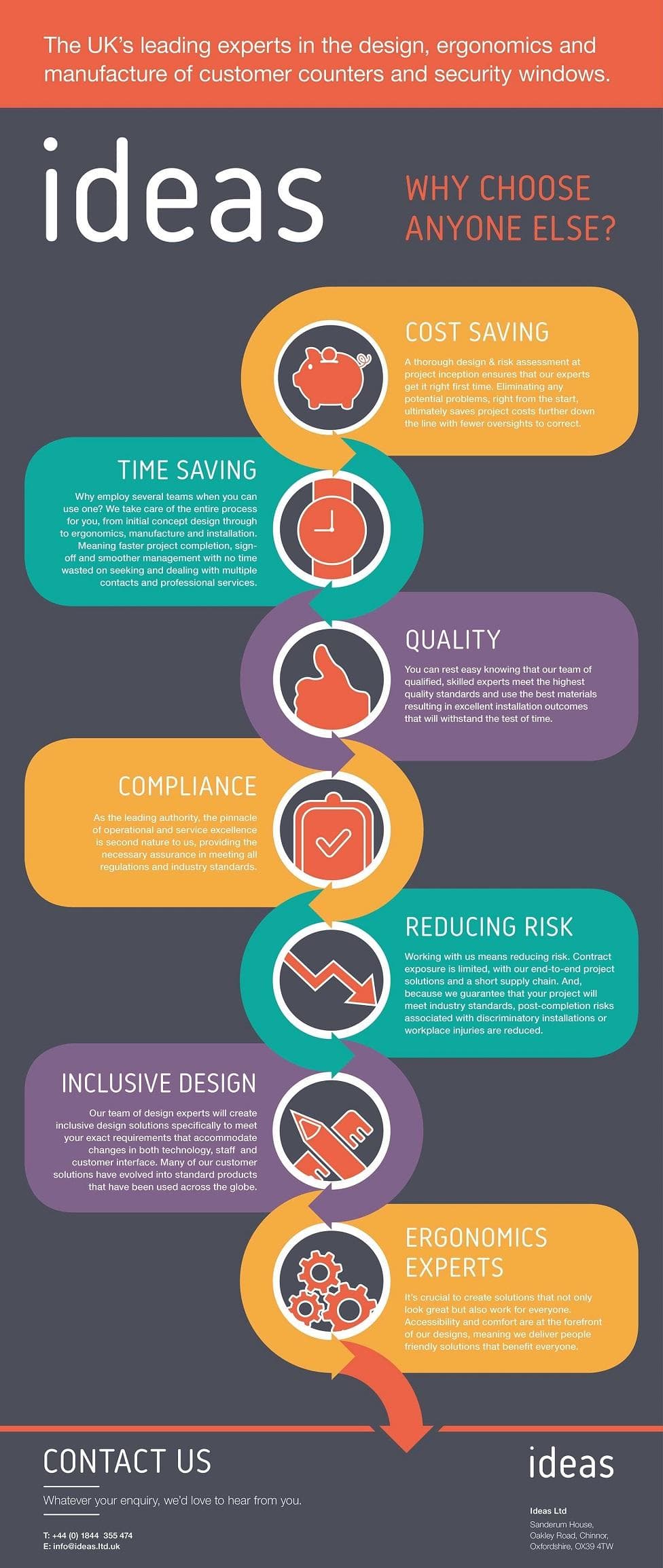 Back to blog

>